THE MOSCOW MULE COCKTAIL IS APTLY NAMED FOR ITS SPIRIT AND ICY-COLD EXTERIOR, DESPITE ACTUALLY COMING FROM THE METROPOLITAN KING OF EXOTIC BEVERAGES, NEW YORK.
Scroll down for full recipe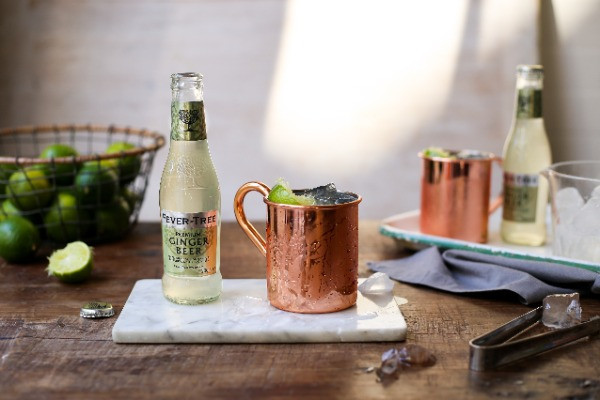 This is one cocktail with plenty of character. Firstly, cocktail aficionados will insist that it must be served in Moscow Mule copper mugs for the authentic drinking experience. This has very little to do with flavour and a lot to do with copper's properties as an excellent heat conductor. You want your Moscow Mule ice cold like the streets of its namesake city.
Another interesting note is that even though this drink was made in a modern city, the Moscow Mule history is a long one. It's claimed – according to a New York Herald Tribune article on the Moscow Mule origin – to have been created in 1941 by a bartender who needed to clear out his cellar of vodka and ginger beer.
Well, there's unlikely to be much more unsold stock when this legend is on the menu. So popular is the drink that there's variations of it all across the world featuring everything from absinthe to whisky, with plenty more in between. However, the classic combination of vodka and ginger beer can never be replaced.
Moscow Mule Ingredients
So, which ingredients does legend have it that bartender once needed to clear his basement of? All the perfect Moscow Mule requires is the following:
50ml vodka
Juice of 1 lime
Ice
How to Make the ultimate Moscow Mule
It's no long walk in the cold to make a Moscow Mule. In fact, you'll be there in just three steps:
Step One: Squeeze the lime juice into a copper Moscow Mule mug or whatever alternative you have close at hand – enamelware mugs work well too – dropping in the spent rind.
Step Two: Fill until overflowing with ice cubes and pour in the 50ml of vodka.
Step Three: Finish with the 150ml of fiery Fever-Tree ginger beer and serve with a stirring rod. This makes the ginger beer three-quarter to a quarter of vodka.
NUTRITIONAL INFORMATION
This mix of our strong and spicy ginger beer and vodka contains 2 units of alcohol. For a lower calories option switch in our Fever-Tree Refreshingly Light Ginger Beer which has 49% fewer calories than our original recipe.
*Nutritional Information of vodka has been sourced from DrinkAware.com
For more nutritional information of Fever-Tree products please refer to the product packaging.
Mixers: Ginger Beer
Spirits: Absolut Vodka, Belvedere Vodka, Ciroc Vodka, Crystal Head Vodka, Finlandia Vodka, Grey Goose Vodka, Ketel One Vodka, Skyy Vodka, Tito's Vodka
Tastes: Full-flavoured warmth