#1 MIXER BRAND BY VALUE IN THE UK OFF-TRADE CHANNEL
"The Group ended the year as the number one mixer brand by value in the UK Off-Trade and Fever-Tree remains the pioneer and market leader of the premium mixer category, in both market share and reputation" - Tim Warrillow, Chief Executive and Co-founder
"Our strategic priorities remain clear, with a firm emphasis on driving the opportunities ahead across our key markets. As part of this, it was pleasing to announce the establishment of our North American operation in December 2017, reflecting an increased focus on the US opportunity as we look ahead"
"We have had an encouraging start to 2018 and remain confident that we are increasingly well positioned to deliver further growth across the business"
Highlights
308 million bottles sold in 2017
76 million 150ml cans sold in 2017
Revenue growth of 66% across over 60 countries
#1 mixer brand by value in the uk off-trade channel
Sales growth of 96% in the uk, our first market
Revenue of £170.2m (2016: £102.2m)
Adjusted ebitda of £58.7m, up by 64% (2016: £35.8m)
Revenue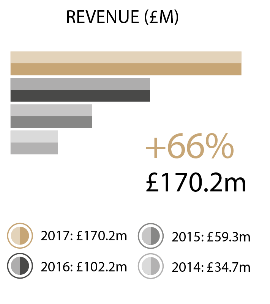 Adjusted EBITDA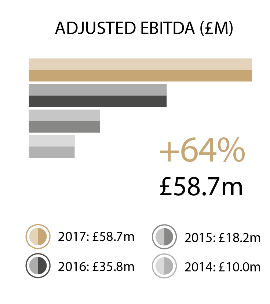 The Group believes adjusted EBITDA to be a key indicator of underlying operational performance, adjusting operating profit for several areas of accounting estimates. Adjusted EBITDA for the year ended 31 December 2017 is operating profit of £56.4m before depreciation of £0.4m, amortisation of £0.7m and share based payment charges of £1.1m.