PERFECTLY CAPTURES THE ESSENCE OF SUMMER IN A GLASS, OR IN THIS CASE A COPA.
Scroll down for full recipe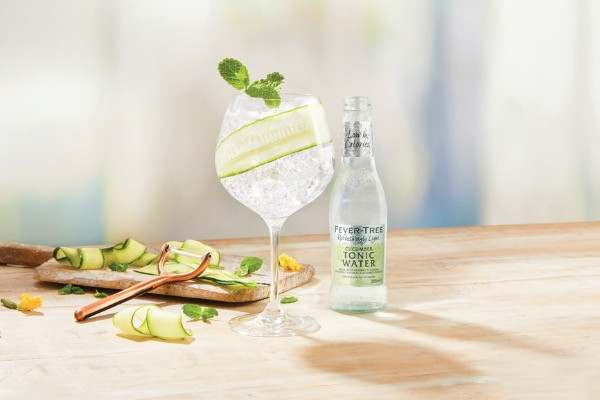 Light cucumber essence notes perfectly balanced with the soft bitterness of Fever-Tree's signature quinine from the fever trees of Eastern Congo make for a wonderfully refreshing and crisp G&T with a distinctively fresh, summery taste and aroma. Pairs perfectly with gin, but don't hesistate trying with Vodka or
While perfect with floral and fresh gins, for a traditional twist on the quintessential summer tipples, try vodkas, tequilas or even Aperol for a fresh take.
Cucumber Garden Party Ingredients
These are the few ingredients you need to make a cool & refreshing twist on the G&T
3 parts Refreshingly Light Cucumber Tonic Water
1 part Gin
3 Thin cucumber slices, to garnish
Mint Sprig to Garnish
Cucumber Garden Party
Here are three simple steps to make this fresh twist on the classic G&T
Step One: Fill your glass to the top with large ice cubes – the more ice, the longer your drink stays refreshingly cool.
Step Two: Pour over a measure of gin (1/4) followed by the Fever-Tree Refreshingly Light Cucumber Tonic Water (3/4)
Step Three: Add your cucumber ribbons & fresh mint
To try more of our simple yet delicious recipes, you can purchase our Easy Mixing Recipe book Here
Mixers: Refreshingly Light Cucumber Tonic Water
Spirits:
No spirits
Tastes:
No tastes