A Kentucky Mule is the best bourbon whiskey version of the classic Moscow Mule cocktail. Made with ginger & bourbon, it's a quick & easy cocktail that's perfect to make for a crowd.
Scroll down for full recipe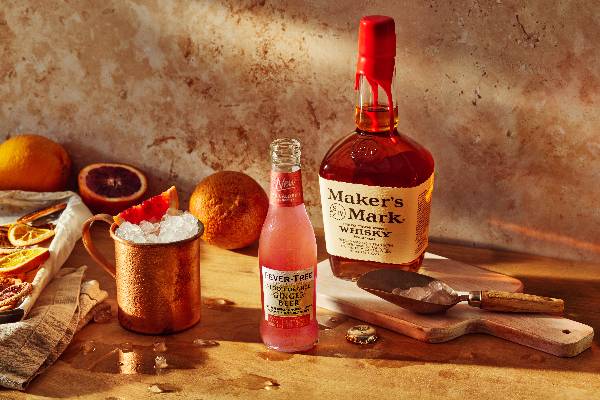 As an American heritage brand whose signature bourbon is aged to taste, Maker's Mark knows a thing or two about flavor. Using the best nature has to offer, they are mindful of where their ingredients come from. Fever-Tree takes the same care in sourcing and always delivers on flavor. With our Blood Orange Ginger Beer and some classic Maker's Mark, you have an innovative and delicious riff on the Kentucky Mule.
Kentucky Mule Ingredients
1 part Maker's Mark® Bourbon
3 Parts Fever-Tree Blood Orange Ginger Beer
Garnish with juicy blood orange wedge
Kentucky Mule
Here are three simple steps to make the perfect Kentucky Mule:
Step One: Add bourbon to a highball glass or mule mug
Step Two: Add fresh ice cubes & top with Fever-Tree Blood Orange Ginger Beer
Step Three: Garnish with blood orange wedg and enjoy.
Mixers: Blood Orange Ginger Beer
Spirits: Maker's Mark Bourbon
Tastes: Full-flavoured warmth