Rich and balanced, the notes of mild vanilla, toasted oak, clove and honey from the rum are perfectly complemented by the refreshing lime, complex spice and vanilla of Fever-Tree Distillers Cola.
Scroll down for full recipe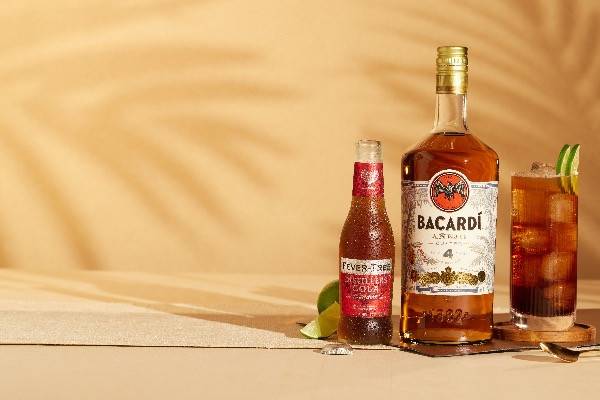 The rum and Cola is an unbelievably simple yet satisfying cocktail. Everything that you need to know about mixing this drink is right there in the name. That said, even the easiest drink can be made just a little better (or worse) and deserves a bit more attention than it often receives. We recomend using Bacardi Anejo Cuatro that is aged for a full four years under the Caribbean sun, with notes of mild vanilla, toasted oak, clove and honey. The perfect Rum to pair with our Distillers Cola and to enchance this classic cocktail.
Rum & Cola Reimagined Ingredients
A simple recipe only needs simple ingredients. Here's everything you'll need for a Rum & Cola:
3 parts Fever-Tree Distillers Cola
1 part BACARDÍ® Añejo Cuatro
Lots of fresh ice
Limes
Rum & Cola Reimagined
Since simplicity is such a huge part of what makes a rum and cola cocktail so popular, this recipe is a true everyman. It requires no special skills and is ready to prepare in an instant.
Step One: Fill a highball glass to the top with large ice cubes, squeeze two fat wedges of fresh lime before dropping the depleted rinds in too.
Step Two: Pour in the golden rum and top with chilled Fever-Tree Distillers Cola for a fresh and complex flavour.
Step Three: Give a gentle stir and enjoy.
Mixers: Distillers Cola
Spirits:
No spirits
Tastes:
No tastes