FEVER-TREE DISTILLERS COLA WILL DO JUSTICE TO THE PREMIUM WHISKEYS AND RUMS WITH WHICH IT HAS BEEN DESIGNED TO MIX.
Scroll down for full recipe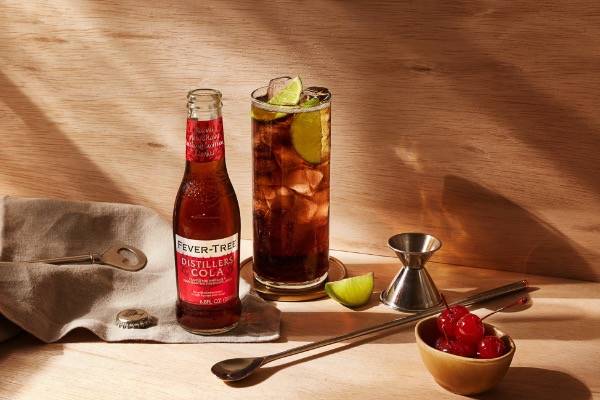 Fever-Tree appreciates the time and care that goes into crafting spirits. In many cases, generations of families dedicate their life's work to tirelessly nurturing the best ingredients; blending, testing, refining formulas; and aging cherished liquids to perfection. Fever-Tree Distillers Cola was created to honor the painstaking labors of the most renowned distillers.
Whisky Cola Ingredients
Rich, rounded and balanced, the notes of butterscotch and charred oak from the whiskey are perfectly complemented by the refreshing lime, complex spice and vanilla of Fever-Tree Distillers Cola.
3 parts Fever-Tree Distillers Cola
1 part Bourbon whiskey
Lime wedge or cherry
Whisky Cola
In keeping with our ethos of simple-to-make, refreshing highballs, we suggest a classic Whisky Cola in just three steps.
Step One: In a highball glass filled to the brim with fresh ice.
Step Two: Pour in the Bourbon whiskey before topping with chilled Fever-Tree Distillers Cola.
Step Three: Garnish with either lime wedge or a cherry. Give a gentle stir and enjoy.
Mixers: Distillers Cola
Spirits:
No spirits
Tastes: Full-flavoured warmth