THE DEPTH AND DELICIOUS COMPLEXITIES OF OUR BLOOD ORANGE COCKTAIL ARE CREATED WHEN THE SWEET SERENITY OF ITALIAN FRUIT MEETS VODKA'S HEADY PUNCH
Scroll down for full recipe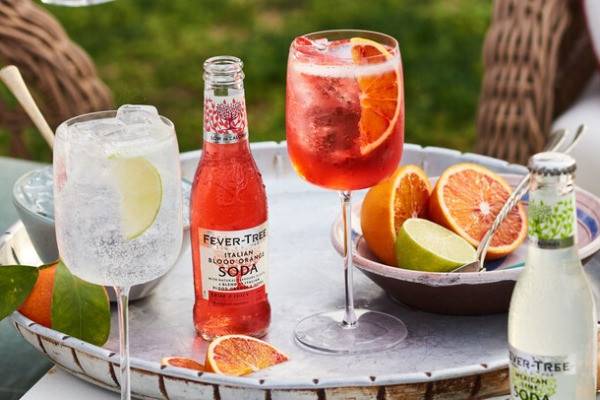 Adding blood oranges to cocktails is nothing new. In fact, the origins of our sensational blood orange Italian soda recipe have a history linked to that other refreshing Italian classic: the negroni. The fruit's sweetness rounded off the harsher edges and added a stunning dash of colour.
Blood Orange Vodka Spritz takes this idea to a stunning conclusion. The versatility of vodka makes the ideal playmate to the bold, crowd-pleasing taste of the finest blood oranges Italy has to offer.
Blood oranges are so popular because of that sweet, soft deliciousness that comes from the distinctive growing conditions of those regions. Our crisp Italian Blood Orange Soda is the perfect balance of juicy blood oranges from Sicily combined with a unique blend of herbal botanicals. Simply mix it with vodka for a refreshing and low-calorie spritz, perfect for a warm summer evening or BBQ.
Vodka & Blood Orange Soda Spritz Ingredients
How to Make the ultimate Vodka & Blood Orange Soda Spritz
Part of the reason this cocktail is such a favourite is how easy it is to make. Here are three simple steps to create the perfect blood orange cocktail:
Step One: Fill a large wine glass to the top with ice so that the drink remains colder for longer.
Step Two: Pour in a 50ml measure of vodka and top up with 200ml Italian Blood Orange Soda. That's a fifth of vodka to four-fifths of soda.
Step Three: Garnish with a fresh slice of orange and enjoy.
NUTRITIONAL INFORMATION
This fruity spritz recipe contains 2 units of alcohol and our Fever-Tree Italian Blood orange soda provides a spectacular mixer low in calories.
*Nutritional Information of vodka has been sourced from DrinkAware.com
For more nutritional information on Fever-Tree products please refer to the product packaging.
Mixers: Italian Blood Orange Soda
Spirits: Tito's Vodka, Absolut Vodka, Belvedere Vodka
Tastes: Fruity and delicious