#1 MIXER BRAND BY VALUE IN THE UK OFF-TRADE CHANNEL
"2018 has been one of the most significant years since Charles and I founded Fever-Tree over 15 years ago" - Tim Warrillow, Chief Executive and Co-founder
"2018 saw the Group continue to build an excellent platform for capturing the global opportunity ahead, including the establishment of Fever-Tree USA - a significant milestone. Fever-Tree has the strategy, products, people and proposition to deliver long-term sustainable growth."
"As the world's leading premium mixer brand with a strengthening global distribution network we are well set to drive the international opportunity as the move towards the premium long mixed drink continues to gather momentum around the world. We remain excited about the size of the opportunity that lies ahead."
Highlights
406 MILLION BOTTLES SOLD IN 2018
125 MILLION 150ML CANS SOLD IN 2018
REVENUE GROWTH OF 40% ACROSS OVER 70 COUNTRIES
#1 MIXER BRAND BY VALUE IN THE UK OFF-TRADE CHANNEL
REVENUE OF £237.4M (2017: £170.2M)
ADJUSTED EBITDA OF £78.6M, UP BY 34% (2017: £58.7M)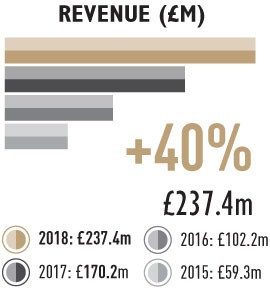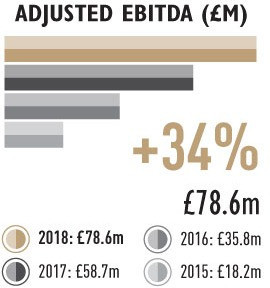 The Group believes adjusted EBITDA to be a key indicator of underlying operational performance, adjusting operating profit for several non-cash items. Adjusted EBITDA for the year ended 31 December 2018 is operating profit of £75.4m before depreciation of £0.7m, amortisation of £0.7m and share based payment charges of £1.8m.