Far from being a modern marketing creation for pink-obsessed millenials, the pink G&T was invented in 1824 by the British Navy to treat seasickness.
Scroll down for full recipe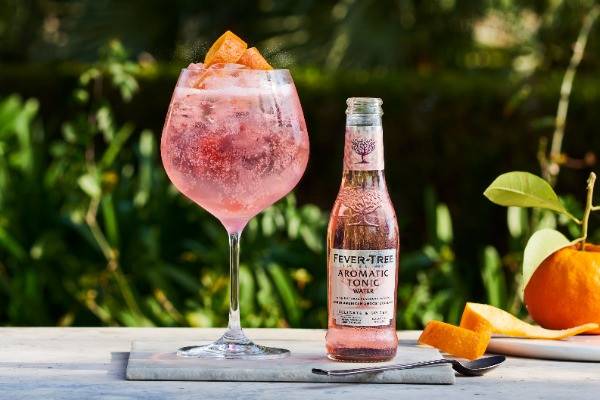 The Pink Gin and Tonic, sitting in a cocktail bar, orange rind to one side – or any other citrus fruit to put in pink gin you prefer for that dash of sweetness – is more than just a drink: it's an icon. When it comes to how to serve a Pink Gin and Tonic, it's a beautiful blend of style and substance. This is perhaps the downright fanciest of cocktails out there, after all.
It's origins though, are quite different from that image. It's widely believed to have been invented by the Navy, even being used as a treatment for seasickness in the early 19th century. It's a cocktail of depth and contradictions, with an "A-list" image but a broad approachability and affordability. The Pink G&T is spectacular but never ostentatious.
Another interesting juxtaposition is how pink doesn't signify its sweetness, but rather its bitterness. In our version, our pink Aromatic Tonic Water is a fabulous fusion of the gentle bitterness of South American angostura bark with the beautiful botanicals of cardamom, ginger, Madagascan vanilla, and Jamaican pimento berries. The result is a uniquely refreshing flavour with citrus notes and a dry and clean finish.
Pink gin and tonic Ingredients
We think we have the best tonic water to give a pink twist to the classic G&T and from there, it's only a couple more ingredients for the perfect Pink G&T:
How to Make the ultimate Pink gin and tonic
This pink gin cocktail isn't just easy on the eye, it's easy to make too. Just follow these 3 simple steps
Step One: Fill a Spanish-style Copa glass (or a large wine glass) with plenty of fresh, clear ice.
Step Two: Add in a 50ml measure of a Navy Strength or juniper-forward gin (such as Plymouth, Tanqueray, or Sipsmith).
Step Three: Top with 150ml of our delicate and spiced Fever-Tree Aromatic Tonic Water. That's three-parts water one-part gin. Add a twist of orange peel to finish.
NUTRITIONAL INFORMATION
If you follow our above recipe your Ultimate Pink G&T will contain 1.8 units of alcohol 250 calories. For a lower-calorie alternative switch in our Refreshingly light Aromatic Tonic Water which contains 54% fewer calories than our original recipe.
*All gin nutritional information (calories and alcohol units) have been sourced from drinkaware.com. For more nutritional information on Fever-Tree products please refer to the product packaging.
Mixers: Aromatic Tonic Water
Spirits: Tanqueray London Dry Gin
Tastes: Long and refreshing