HERE'S OUR TAKE ON THE SPICED RUM AND GINGER BEER CLASSIC DARK 'N' STORMY COCKTAIL, MADE FAMOUS BY GOSLING'S RUM
Scroll down for full recipe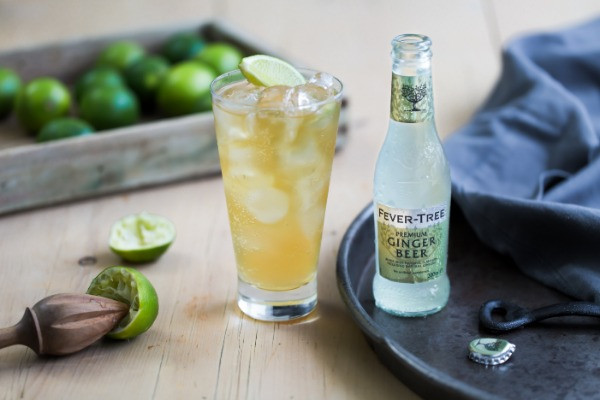 Served in a highball glass looking elegantly delicious and boasting the velvet tones of the rum and ginger beer, there's arguably no cocktail as immediately inviting as the Perfect Storm, also known as a Dark 'n' Stormy. It beckons you over with its cool, crisp appearance and dash of fruity playfulness.
There's no lengthy history to uncover here: no significant tales which prop up this drink as something that might otherwise have been lost in the crowd. Instead, this is a cocktail whose staying power relies solely on the broadness of its appeal in the here and now. Plus, with its good looks and simple yet deep and satisfying taste, we don't think it will be going anywhere soon.
The rich and sometimes spicy notes of the finest dark rums pair perfectly with the warmth of the three varieties of ginger that's packed into Fever-Tree Ginger Beer. The two paired together make for one of the most refreshing cocktails around.
Perfect Storm Ingredients
What is a Dark and Stormy? It all comes down to the following simple ingredients, meaning anyone can enjoy this deep yet breezy chilled delight.
Perfect Storm
HOW TO MAKE THE ULTIMATE PERFECT STORM
When people think of a perfect storm, they think of a combination of elements coming together to create something spectacular. With our ginger beer and rum, that's exactly what you get – and it's easier than you might think. Just follow these steps:
Step One: Fill a highball glass close to the very top with ice so that the drink remains colder for longer. You want as much ice as the glass can hold while still leaving room for the drink.
Step Two: Pour in 1 part off dark rum (can be spiced) and add a generous squeeze of fresh lime juice.
Step Three: Pour in 3 parts of our strong and spicy Fever-Tree Ginger Beer and garnish with a couple of lime wedges.
Mixers: Ginger Beer
Spirits: Captain Morgans Rum, Gosling's Black Seal Rum, Havana Club 7yr Rum, Havana Club Anejo Especial Rum
Tastes: Full-flavoured warmth