BRIGHTEN UP ANY SUMMER PARTY WITH A VIBRANT PITCHER OF FRUITY SPANISH SANGRIA.
Scroll down for full recipe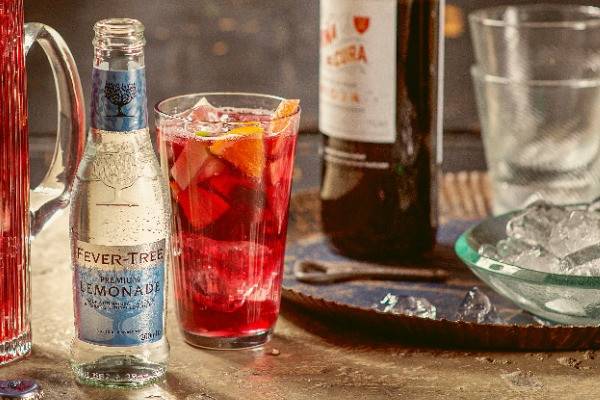 Sangria is a cocktail made for sharing. A fresh, vibrant pitcher of the Spanish punch served during a get together of friends and family – perhaps during a BBQ or maybe on a Friday night – is guaranteed to put a smile on everyone's faces.
But what is Sangria other than a summer favourite? Beyond being a Spanish invention, little is known about the origins of Sangria. The name is generally believed to be taken from the Spanish word 'sangre', which means blood – no doubt in reference to the drink's deep red colour. Other than that, it's all about simplicity and taste.
Apart from a few staple ingredients, Sangria is wonderfully adaptable. A Sangria recipe can vary widely by region and, perhaps more pertinently, what is available! When it comes to knowing how to make Sangria at home, always remember this is a cocktail perfectly suited to spontaneity. What fruit do you put in Sangria? Whatever is left in the kitchen and looks like an appetising Sangria fruit, we'd say.
There's arguably nothing simpler than an easy Sangria recipe because you can adapt to whatever you have around. A bottle of plonk, a rummage in the back of the liquor cabinet, a good dash of Premium Lemonade, and whatever you've got left in the fruit bowl can result in a surprisingly delicious and refreshing drink. That's the beauty of the Sangria: it can be made by anyone, in many different forms, all of them a party highlight.
Sangria Ingredients
The ingredients for a Sangria are pretty loosely defined, from the alcohol to what fruit goes in a Sangria. That said, we think it's good to have a reference point, so you know how to make the most of your ingredients. With that in mind, here's an example of what your Sangria could look like:
2 bottles Fever-Tree Lemonade
1 bottle of fruity red wine
150ml brandy or cognac
1 each orange, lemon, apple diced
Frozen fruit (strawberries, pineapple and mango)
How to Make the ultimate Sangria
Our simple red wine Sangria recipe here is based on the above ingredients but should be just as easy regardless of which ingredients you have knocking around:
Step One: To a large pitcher, add equal-sized chopped fruit.
Step Two: Add over the wine and spirit, stir it together and refrigerate until chilled.
Step Three: Pour in the Lemonade and ice just before serving
Mixers: Premium Lemonade
Spirits: Absolut Vodka, Belvedere Vodka, Ciroc Vodka, Finlandia Vodka, Grey Goose Vodka
Tastes: Long and refreshing, Fruity and delicious