WANT TO TAKE YOUR SUMMER FRUIT CUP TO THE NEXT LEVEL? SUBSTITUTING LEMONADE FOR GINGER ALE IS A TOTAL GAME-CHANGER FOR THIS SUMMERTIME FAVOURITE.
Scroll down for full recipe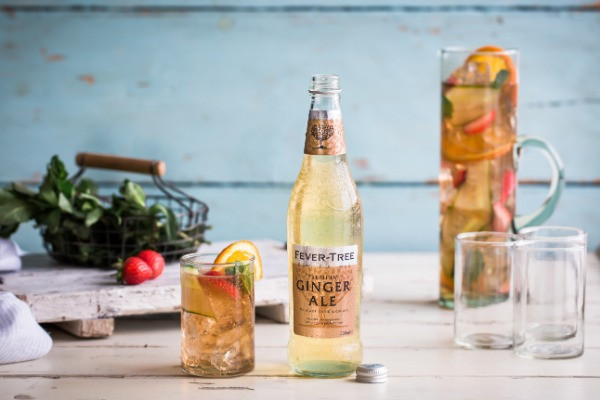 The Summer Cup – known in some quarters as the fruit cup or by brand names like Pimm's – is a rightful staple of midsummer get-togethers. It's a flavour-packed punch drink that is as reminiscent of sunny days as the smell of freshly cut grass or the sound of a barbecue sizzling. But which blend is the best for your summer pitcher cocktails?
This to an extent, is a matter of personal taste. Part of the joy of summer pitcher cocktails is their versatility. This traditional English drink has a huge variety of potential spirits, mixtures, and garnishes. The question 'what is a Summer Cup?' can often be better summed up by the long glass rather than any specific ingredient. That said, we're all about finding the best ingredients and the best combinations.
This is why we've traded in the likes of lemonade for our gingery and fresh Fever-Tree Ginger Ale for this recipe. We think this gives it that perfect balance of punch – no pun intended – and refreshing, sweet fizz. Preferably combined with a Sipsmith Gin Summer Cup if possible, we think the addition of our Ginger Ale can show a whole new generation the charms of this exemplary English masterpiece.
Summer Cup Ingredients
While we may be specific about our Summer Cup gin and Ginger Ale choices, you still won't have to go out of your way much to get everything you need for this sublime and sumptuous Summer Cup cocktail.
(Makes 5 glasses)
How to Make the ultimate Summer Cup
This may be a recipe for a Summer Cup, but not just any. This is the ultimate Sipsmith Gin Summer Cup with Fever-Tree Ginger Ale. Even so, we think you'll be pleasantly surprised by how easy it is to make.
Step One: There's a little prep work involved here but the result is always worth it. Top and quarter your strawberries, slice your orange into half-moons, peel your cucumber into long strips and pick the leaves of a bushy sprig of mint.
Step Two: In a large jug or pitcher, pour out five measures of Sipsmith Summer Cup then layer a few cubes of ice (the larger and fresher, the better), before adding one or two pieces of each of the garnish elements.
Step Three: Continue until you nearly reach the top then gently pour over the Ginger Ale and serve. The Ginger ale should make up around two-thirds of the pitcher.
NUTRITIONAL INFORMATION
We're talking big pitchers here, meant for sharing, socialising, and all-around good times. That makes exact calories tricky – especially when you consider all the different spirits and garnishes you could use. We can say for reference though that our Ginger Ale is 34 calories per 100ml. You can also opt for our Refreshingly Light Ginger Ale to bring that down to just 18 calories per 100ml serving.
Mixers: Ginger Ale
Spirits: Bombay Sapphire Gin, Boodles Gin, Sipsmith London Dry Gin, Tanqueray London Dry Gin
Tastes: Fruity and delicious