THE VODKA AND TONIC IS SUCH AN ICON IN THE WORLD OF COCKTAILS THAT IT DESERVES ITS OWN WING IN THE MIXOLOGY HALL OF FAME. BETTER STILL, IT DESERVES A PLACE ON YOUR KICTHEN COUNTER.
Scroll down for full recipe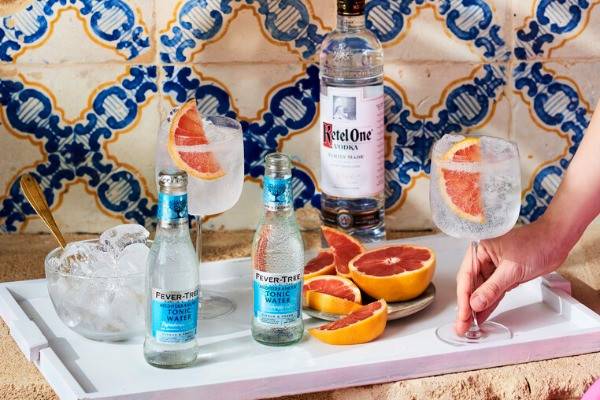 This is a classic long drink that really lets the natural flavours of our tonic water shine through – light, refreshing, and highly sippable. As this drink is so popular, you may view it as too much of a staple to be improved upon. The Vodka Tonic is a work of genius we can all enjoy with a few simple ingredients, so how could it possibly be made any better?
Well, we're all about making the greats ever greater, and we think we've absolutely smashed it with our Vodka Tonic Water cocktail. Our citrus and fresh Mediterranean Tonic Water is perfect for this. Its delicately floral and herbaceous notes of lemon thyme, rosemary, and geranium lend a crisp and bright edge to this Vodka and Tonic recipe. It's everything you want it to be, but a little bit more refined.
We wouldn't ever want to get into an argument regarding Vodka and Tonic vs Gin and Tonic, but if we had to defend the former, this iteration of an icon would be the ace up our sleeve.
Vodka & Tonic Ingredients
Making our favourite cocktails as good as they can be doesn't mean overcomplicating a drink whose charm is in its everyman simplicity. Here's all you'll need for the perfect Vodka & Tonic:
How to Make the ultimate Vodka & Tonic
Our recipe is every bit as straightforward as the ingredients that go into our Vodka and Tonic. If you follow these simple steps, you're bound to be left with a cocktail to remember:
Step One: Fill a large wine glass or a highball glass for Vodka and Tonic with plenty of large, fresh ice cubes.
Step Two: Pour over a 50ml measure of your favourite vodka then top up with 150ml of chilled Fever-Tree Mediterranean Tonic Water. Our recommended ratio is one-part vodka to three-part tonic water.
Step Three: Garnish with a sprig of lemon thyme or a curl of lemon peel and enjoy.
NUTRITIONAL INFORMATION
Our ultimate Vodka and tonic recipe contains 2 units of alcohol. For a lower-calorie alternative switch in our refreshingly Light Mediterranean Tonic water which contains 47% fewer calories than our original recipe.
*Nutritional Information of vodka has been sourced from DrinkAware.com
For more nutritional information on Fever-Tree products please refer to the product packaging.
Mixers: Mediterranean Tonic Water
Spirits: Tito's Vodka, Absolut Vodka, Crystal Head Vodka, Finlandia Vodka, Skyy Vodka, Stolinchnaya Vodka
Tastes: Long and refreshing