Our definitive recipe for the perfect G&T.
Scroll down for full recipe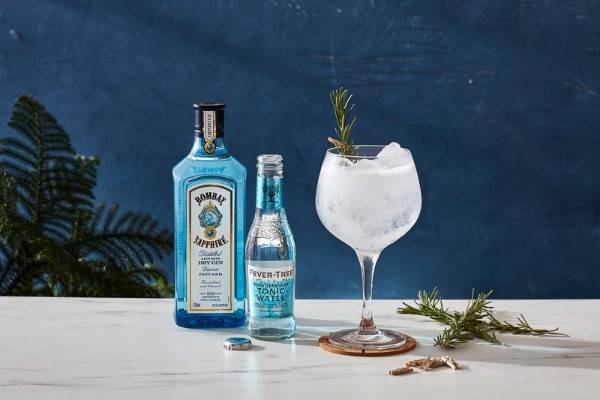 The history of the gin and tonic is closely linked to modern British history. It is a product of soldiers stationed in India who mixed their medicinal dose of quinine water to ward off malaria with their daily ration of gin. Fast forward to the present day, gin and tonics are more popular than ever.
Gin and Tonic Ingredients
3 parts Mediterranean Tonic Water
1 part of Bombay Sapphire
Plenty of fresh ice
Rosemary sprig
Gin and Tonic
There's not much that hits the spot quite like a gin & tonic. The combination of cool, clean Bombay Sapphire, ice-cold tonic and the freshnesss and fragrant of sprig wedge of rosemary is a quintessential refresher for a reason. But while it's a simple concoction, getting it absolutely perfect requires dedication.
Add the Bombay Sapphire over ice in a balloon or wine glass. Top with Fever-Tree tonic and gently fold with a bar spoon to mix. Garnish with Rosemary.
Mixers: Premium Indian Tonic Water
Spirits: Bombay Sapphire Gin
Tastes: Long and refreshing