ALTHOUGH THERE'S AN AMAZING VARIETY OF GINS, GARNISES AND GIN AND TONIC GLASSES TO CHOOSE FROM, THIS IS OUR DEFINITIVE RECIPE FOR THE CLASSIC GIN AND TONIC COCKTAIL PROVIDING THE PERFECT GIN TO TONIC RATIO.
Scroll down for full recipe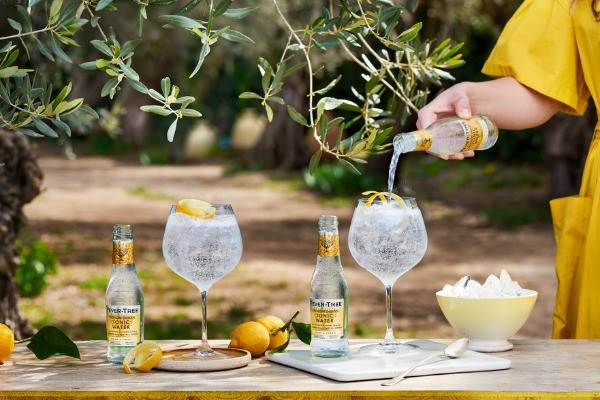 The history of the gin and tonic cocktail is closely linked to modern British history. It is a product of soldiers stationed in India who mixed their medicinal dose of quinine water to ward off malaria with their daily ration of gin. Fast forward to the present day, the gin & tonic is more popular than ever, with £2.6 billion worth of gin sales in the UK in 2019, according to the WSTA.
The Spanish use a copa glass to serve gin and tonic. This is a big balloon glass that lets the wonderful aromas of the drink's botanicals be released, adding an extra level of flavour. At home, a large wine glass is the perfect substitute to ensure you are able to enjoy the botanical aromas of your gin & tonic.
Our ultimate G&T recipe provides you with 3 simple steps to create a showstopping G&T to enjoy with friends or to give yourself a well-deserved treat at the end of the week. Fever-Tree Indian Tonic Water blends beautifully with all types of gin, ensuring your G&T is always crisp and refreshing.
---
Gin & Tonic Ingredients
50ml of a classic London Dry gin
Plenty of fresh ice
A twist of lime peel
How to Make the ultimate Gin & Tonic
Here are three simple steps to make the perfect gin and tonic:
Step One: Fill your glass to the top with large ice cubes – the more ice, the longer your drink stays refreshingly cool.
Step Two: Pour over a measure of gin (1/4) followed by the Fever-Tree Premium Indian Tonic Water (3/4)
Step Three: Add lime garnish to finish and enjoy
Top Tip: Peel a strip from the outside of the lime, twist it over the top of the glass to spritz the sweet citrus oil into the drink, then drop into the glass.
NUTRITIONAL INFORMATION
Not only is gin and tonic a refreshing and easy-to-make cocktail – but it's also a great alternative to wine and beer. The above G&T recipe contains 236 calories. In terms of how many units are in a gin and tonic, our recipe measurements will add up to 1.8 units
*All gin nutritional information (calories and alcohol units) have been sourced from drinkaware.com. For more nutritional information of Fever-Tree products please refer to the product packaging.
---
Mixers: Premium Indian Tonic Water
Spirits: Bombay Sapphire Gin
Tastes: Long and refreshing